When we get married we commonly say 'until death do we part' but for this amazing guy it goes beyond this for his wife that passed away, but he still truly loved… He continued to eat at the restaurant that they used to enjoy together. Now he takes her framed photo and has it on the table next to him as he eats, to feel close to her!
This amazing guy, Clarence Purvis, 93, found love in his life, she was called Carolyn Todd, when she was, back in the day, just 16 years old, when they first met each other, he was 24 at that time! About a year later they married each other.
This was to be the start of 63 years together, in that time their love just grew stronger and stronger and their lives grew closer, all the time filled with love and understanding
As Clarence tells the story their time together was the stuff of fairy tales, it was a one in a million example of true love that fairy tale that everyone searched for, but very few actually find!
Clarence said:
"Ain't nobody loved one another more than me and my wife loved one another. I wanted what she wanted and she wanted what I wanted"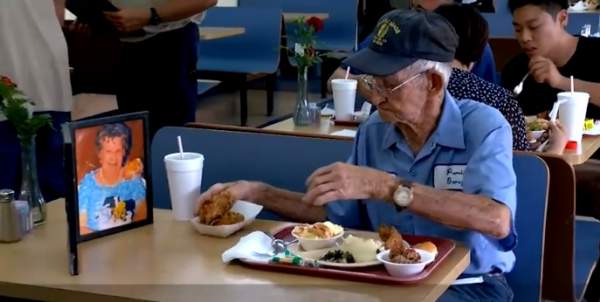 Dining at the same place for lunch for the last 13 years, Clarence and his wife went to the Smith's Restaurant in Reidsville with religious dedication. Even when four years back Carolyn died he still didn't leave her out, he took her photo to the restaurant and placed it on the table to remember her!
He said:
"She was always with me when we were livin'. She's with me now"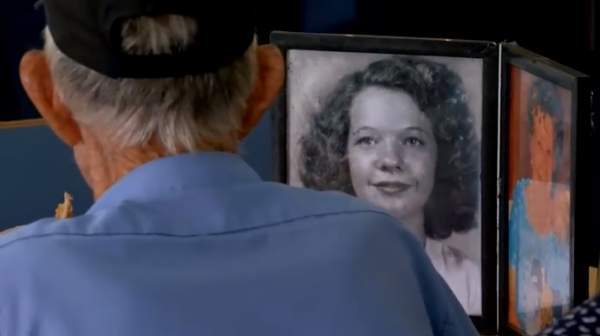 Lots of concerned people tried to convince Clarence that he is simply a little bit lonely and he would be so much better off if he moved forward and tried to move on. It's simply the case that some people just don't believe in the concept of true love as Clarence knows that it exists for his wife and him.
He said:
"They said if I get me a girlfriend things will be better. I could ask her, could I get me a girlfriend? You know what she'd say? If you want too. That's how we operated"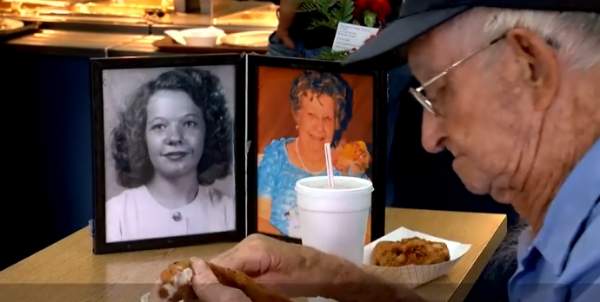 Around four times every day Clarence visits the grave of Carolyn a the Cemetery Glennville, he said it's because he loved her so much and he misses her!
He said:
"I imagine I come 125 times a month …I love her that much. And miss her that much. And think she would with me."
Clarence's behavior could seem a little over the top and worrying, and that Clarance can't move on with his life. However, the other side of the story is that they had found true love between them. Clarence just is showing really that true love never dies!
How amazing, if you think so to then SHARE with your friends and family, and watch below to see more!